So today was okay. I RPed with Blu and BG on the Nanowrimo forums, ate lunch, talked to Nell and Junkie, and... that's it. Oh, and I made a doll of myself at elouai.com because I got bored later.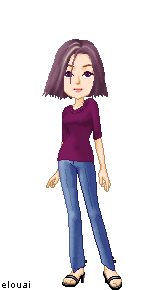 It's fairly accurate, except my hair's darker (and longer at the moment, but I'm getting it cut...eventually) and I'm not super-pale. It was fun, though. I didn't want all that blinky stuff in the background, so I left it out. Yeah. Blu showed me the site, and I started tinkering with it.

Oh, and my root canal is tomorrow at ten. I'm not looking forward to it, but it'll be over soon. Then I get to experience trying to talk with a numb mouth. It's quite funny, actually. You know how I stumble over words in my voice posts? Multiply that by about ten, and that's what you get. Half the time I sound perfectly normal, but the rest of the time... forget it. I'm gone.

Oh, and the Mad Libs from the last entry will be up Wednesday. I'll give you a few more days. They're pretty funny so far.